About She's So Pretty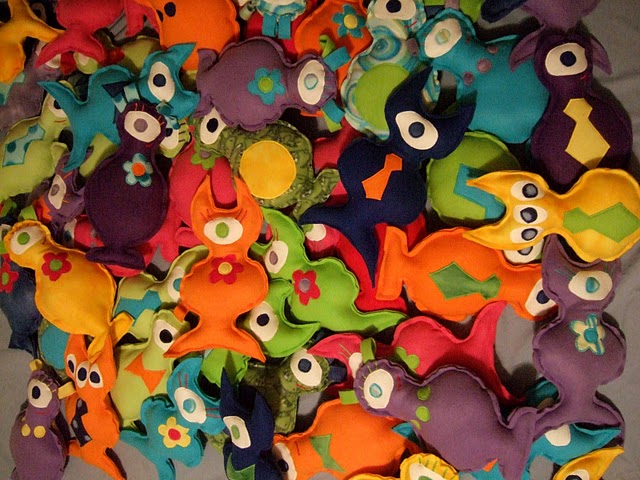 The handcrafted articles of She's So Pretty are sewn and designed by me, Mindy Wilkinson, in my sewing studio located at the mountainous tip of western Maryland, USA. I sew a variety of items from fashion-forward skirts to eye-catching handbags, while incorporating vintage and upcycled fabrics. I also offer something for the younger crowd, such as my handmade fleece robots and monsters; an excellent toy for infants and toddlers alike.
When I am feeling exceptionally silly, I will give myself a good chuckle with one of my lovely monster bras or door draft snakes. What's funny about a monster bra or door draft snake, you ask? Well, mostly that my door draft snakes are eating baby doll and the cups of my bras are furry monsters. Both my door snakes and bras are functional and a downright hoot! My customers have proudly modeled my monster bras at various music festivals, bachlorette parties, and they have even made their way out to Black Rock City, Nevada for the Burning Man festival. I would love to see a pink one ordered for Breast Cancer Awareness because ladies...you should love your ta-tas!
Sewing is my passion. I started cutting up my clothes in grade school because I was never satisfied with anything straight off the rack. I left the corporate world in all of its florescent-light splendor, bought a rustic house in the country, and am turning my lifelong obsession into something more. I sew for simple reasons. Sewing is honest work. I enjoy taking raw material and making it into something beautiful and functional. I enjoy taking vintage and discarded material, and turning it into something fresh and awesome. Over the years, people have told me that I've gotten pretty good at it. I'll leave that up to you.
Copyright 2012, She's So Pretty