Events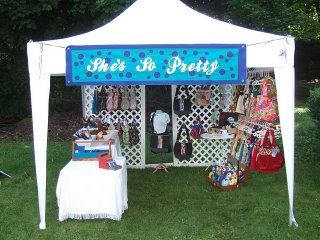 I love attending festivals and events because it allows me to interact with my customers and share my creativity with them personally. Check back here or like the She's So Pretty Facebook page for up-to-the-minute news about where I will be. My beautiful booth is hard to miss! If you are interested in having me attend your event, please contact me at mindy@shessopretty.com.


Saturday April 29th, 2017
3:00pm-8:00pm
Frostburg Arts Walk
Frostburg, Md


Saturday May 20th, 2017
12:00pm-9:00pm
Harmonies for Hope Benefit Music Fest
Westmar Middle School
Lonaconing, Md


Sunday May 28th, 2017
12:00pm-7:00pm
Sowebo Festival
Hollins Market
Baltimore, Md


Saturday June 3rd, 2017
7:30pm-11:00pm
Spring Bling Gala
11 E Main St
Frostburg, Md


Saturday & Sunday June 17-18th, 2017
12:00pm-6:00pm
Zihlmanpalooza Pottery and Art Fest
18126 Mount Savage Rd NW
Frostburg,Md


Sunday June 25th, 2017
1:00pm-6:00pm
Coney Days- Sunday in the Park
Iron Furnace Park
Lonaconing, Md


Saturday July 4th, 2017
11:00am-5:00pm
Derby Days
Main Street
Frostburg, Md



Host a Home Show

Interested in booking a home show? Lucky duckie, I love doing them! I am happy to tailor a show for your needs. Tea with the ladies, a girls night out, or cocktails and crafts, the possibilities are endless. Please contact me at mindy@shessopretty.com with questions and booking requests.

Copyright 2012, She's So Pretty